Erasmus: it has just started! We started with la Cata, then the Crosses and now its time for Patios, possibly the most beautiful of all the festivals of the Mayo Cordobés. You'll find flowers and lots of colour everywhere in Córdoba.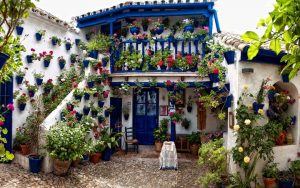 Due to the climate, the houses of Córdoba were built around a "patio" with a lot of plants to create a sensation of freshness. Now, the neighbours open these "patios" to the public, taking also part in a competition. They make a big effort to have them gorgeous in order to win the prize awarded by the City Council to the most beautiful one. Since its start to the middle of May you can visit the more than 60 "patios"  which are exhibited around the old center of the city.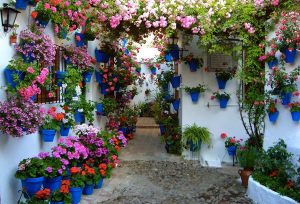 The most emblematic area for "Patios" in Córdoba is the "Alcázar viejo", a neighbourhood placed between the "Alcázar" and the "San Basilio" church. But you can find much more very near the Mosque area, the Jewish Quarter and Santa Marina's neighbourhood. All the "patios" have free entrance, but they only open from 11:00 to 14:00 and from 18:00 to 22:00, from Monday to Sunday, but take into account that during the weekend there are a lot of tourists and local people everywhere, what will make the visit much more complicated.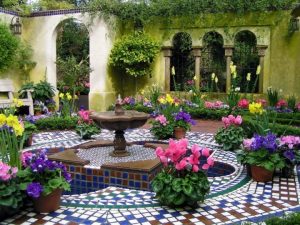 At the biggest "patios" you can find bars to drink and taste the typical "tapas" of Córdoba, that probably you already know very well. Sometimes there are also music and dance shows, specially at San Basilio's area.