Like any other city, Córdoba is divided into different neighbourhoods or districts, with different characteristics and connections. The normal thing would be to believe that the most convenient option is to live in the neighbourhood that is closer to your faculty, but we are going to mention the most important characteristics of each area so that you can decide easily which neighbourhood to choose for your Erasmus in Córdoba.
Click on the map to go to Google Maps

CIUDAD JARDÍN
The neighbourhood more populated by Erasmus in Córdoba is Ciudad Jardín, a very big district very well located. It is very near the city center and the train and bus stations. Besides, it is one of the favourite neighbourhoods among students because rents are quite affordable in this area and it is very well connected to  almost all the faculties.
The bus line number 7 takes you to the Faculty of Law. The bus lines 2 and 5 you will get to Loyola University and to the Faculties of Medicine and Nursing and Education Sciences. If you are studying any scientific degree or engineering you may take a suburban train at the station to get to the Campus of Rabanales. If you study at the Faculty of Philosophy and Letters you are lucky, because you can get there by foot. In this neighbourhood you may also find the Rectorate of the University of Córdoba, whose building was the former Faculty of Veterinary.
The place which will become more familiar for you will be the Plaza Costasol, a roundabout located right in the center of the neighbourhood, surrounded by many local businesses, supermarkets, bars, restaurants, kebabs, bazaars, and so on. There are two things which define this neighbourhood: its multiculturality and the students, so it is not very difficult to find shops that sell products from different countries and bars which give free "tapas" with every drink 🙂
Other emblematic place of the neighbourhood is the bullring, placed at Avenida Gran Vía Parque, one of the main avenues of the area, together with Avenida de Antonio Maura and Avenida de Medina Azahara.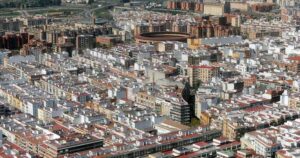 VALLELLANO
Another highly demanded and valued area among students is Vallellano, especially for those who study at the Faculty of Philosophy and Letters, located right in the heart of the Jewish Quarter, just 2 or 3 minutes away by foot. Many students of Medicine and Nursing, and also from Loyola University, also choose this area because of its proximity and good bus connections.
This area is very near the city center and a few steps away from the old city. The Mosque, the Alcázar, the Roman Bridge or the Plaza del Potro will become part of your everyday life, so if you like living in a place surrounded by art, history and culture, look no further, this is your neighbourhood. In this area you can find supermarkets, some local businesses, plenty of restaurants and bars and even pubs, especially in the area of the Ribera.
Within this area it might also be included San Basilio neighbourhood, where you may only find houses with typical Andalusian architecture, most of them with a white façade, bars, balconies and a central courtyard, decorated with flowerpots. It is a very quiet place, perfect for those looking for silence at study time… Until May starts in Córdoba, then its streets are full of flowers, music and people. Neighbours decorate their façades and balconies with flowerpots to anyone who wants to visit their courtyards. This month will make you wish that your Erasmus in Córdoba lasts forever.

CITY CENTER
Being Erasmus, the city center is also one of the best places of Córdoba where you can live. There is only one Faculty in the area (Labour Sciences), but is easy to get to the others walking or taking a bus or train. It is perfectly connected by public transport to any other area of the city.
This area is full of shops, most of them national or international franchises, like Zara or Mango. There are some supermarkets, too and El Corte Inglés, the most famous department store in Spain. There you'll find anything that you are looking for 😉
The main spots are Tendillas and Corredera Squares, Ronda de los Tejares and Avenida del Gran Capitán. In this area you can also find a great amount of bars to have some beers and "tapas".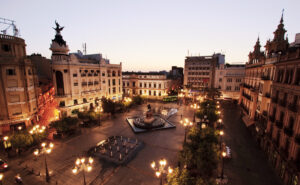 With all this information you may get an idea of the best areas to find accommodation in Córdoba during your Erasmus, but don't think too much about it, now that you know Why you should choose Córdoba as your Erasmus destination every decision you take will be fine.