The Wine Tasting and the May Crosses
The "Cata del vino" (wine tasting) and the "Cruces", both begin the long-awaited month of May in Cordoba which is famous for not leaving one single weekend without party. From the end of April until the end of May, there is no weekend in Córdoba without tourists, flowers, bars, beer, regional dresses, dances… That's the most awaited month for an Erasmus, too.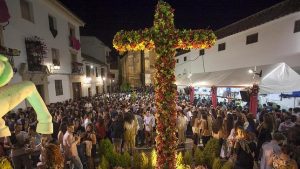 After the wine tasting at the end of April, big crosses decorated with flowers are set up in different squares and courtyards of Córdoba. Next to these crosses there is always a bar to drink a beer and eat some "tapas". Besides the music that can be listened at every "cruz" sometimes is also possible to find some flamenco shows. One more experience to add to your Erasmus in Córdoba.
Although there are more than 50 crosses, the Erasmus favourite ones are located on: Cuesta del Bailío, Santa Marina, Torre de la Malmuerta, Plaza de la Corredera, Tendillas, San Hipólito, San Nicolás, Trinidad and Cardenal Toledo square. Anyway, you can always check The May Crosses of Córdoba map to visit as many as possible. The music is on until 2 am, although most people continue partying afterwards in the different clubs of the city.
The Battle of Flowers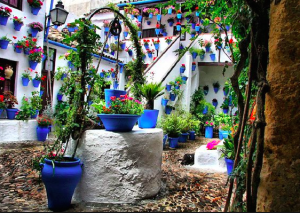 During this month,  the traditional "Batalla de las Flores" (Battle of the Flowers) takes place. In this battle, a dozen of floats decorated with flowers go along Paseo de la Victoria while throwing flowers to the people in the street who will throw them back to the floats.
The Festival of Patios
The "Patios" is another very important festival in Córdoba, consisting on decorating traditional Andalusian courtyards with lots of flowerpots. We suggest you to take a tour along the different courtyards of the city, as there's no tourist or Erasmus in Córdoba who misses them.
The Fair of Córdoba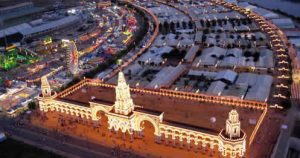 Last but not least, we have the Fair of Córdoba that begins the penultimate weekend of May and lasts until the last one. For one week and a half, el Arenal is filled with casetas (stands) that are like mini discos where you can have a drink or dance with your Erasmus friends all day long. There's free entry in most of them and one of the most consumed drinks is Pilycrim, a white and sweet wine that you'll love.
We hope you're ready for an unforgettable month of May, because party has just started…Go enjoy your Erasmus in Córdoba!