Attention! This information is very important if you're an Erasmus student in Córdoba! The Renfe Youth Card will be very useful for all the trips you'll make during this year.
If you are between 14 and 25 years you can get the Tarjeta +Renfe Joven 50 (Renfe Youth Card).
For just 50€ this card will allow you, for one year since its purchase, to buy AVE and Long Distance tickets in national journeys with a discount up to 30% over their prices and up to 25% in Medium Distance and AVANT.
You can purchase the +Renfe Joven Card in their website: www.renfe.com, after filling in the form established for this purpose. On it, the customer will be asked to provide all the information deemed necessary to issue the card. You can do this here. can do it here.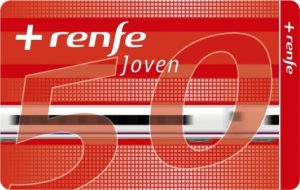 For more information, you can contact with Renfe Customer Service
IMPORTANT: It will be indispensable to have the train ticket and ID, NIE or PASSPORT in order to prove the passenger's identity when the authorised personnel ask for it. 
Note: if you are lucky enough to be on Erasmus during the winter semester of the academic year 2022/23, you can benefit from the free Renfe pass. This is for those who have to take the train on a recurrent basis. This pass works for Cercanías, Rodalíes and Media Distancia trains and will be valid, in principle, until 31 December 2022. You can buy the pass on Renfe's official website or in person at the Renfe station.
If you found this post interesting, check 5 apps to organise your Erasmus trips to discover more facilities for travelling.