We're sure many of you, Erasmus, are wondering where will be a good place in Córdoba to enjoy real flamenco at affordable prices or for free, aren't you?
You're lucky, because Córdoba is one of the cities with more flamenco! Different artists, like painters (Julio Romero de Torres) and singers, have made Córdoba one of the cities in which this art brights the most. The following are some of the places where you can enjoy the best flamenco:
This place is located on the heart of the Jewish quarter, very close to the Archaelogical museum. Every weekend there are shows performed by local artists, anonymous people and flamenco lovers. Furthermore, you'll be able to eat and drink at very affordable prices. Don't forget to try "fiti-fiti" (a local wine elaborated by mixing white and sweet wine), traditional of Córdoba and something that no Erasmus can miss.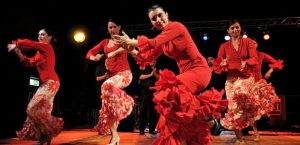 This bar is at the Jewish quarter of Córdoba, very close to the Mosque. Perfect to enjoy live flamenco shows performed by groups, soloists or associations. It seems a good plan for the weekend, doesn't it? We suggest you to follow them on their Facebook page to keep up with the shows that are announced.
Ubicated also at the Jewish quarter of Córdoba, in La Fragua you'll be able to enjoy spontaneous and live flamenco shows while tasting some tapas or dishes like salmorejo, rabo de toro (oxtail) or flamenquín. Moreover, at this place you'll also find different kind of dishes, such as couscous or tabbouleh. It also has a little courtyard with lots of flowers where you can relax at nights.
All the options mentioned above are completely free. But that doesn't mean you cannot find other places in Córdoba offering flamenco where the entry has a price. An example of it is Tablao Flamenco El Cardenal, next to the Mosque and the "Palacio de Congresos". It is one of the most important "tablaos" (stages) of the city, of high standing. The admission fee is 23€ (entry+drink). Sometimes it is possible to find offers and special prices on webs like Groupon, Groupalia or LetsBonus. We recommend you to have a look at them, because the show is worth watching.
Now there are no excuses to enjoy the real flamenco during your Erasmus in Córdoba 😉 And for more ideas about what to do in Córdoba visit our post Show at the Royal Stables of Córdoba.