The best places to go out in Córdoba
During your Erasmus year you'll spend a lot of time hanging out, meeting new people and enjoying Córdoba. Once again, you're very lucky! Córdoba is a great city for it. Take a look to this map of the different places to go out in Córdoba: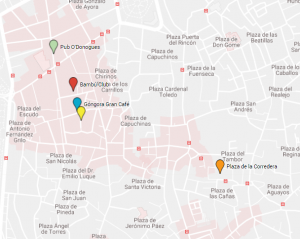 Being a small city with warm weather most of the year, Córdoba is perfect for both tourists, students and Erasmus to go out and enjoy the city because bars keep their terraces open the whole year. Also, there are specific neighbourhoods for students, like Ciudad Jardín. There, you'll find tapas bars with very good prices and pubs to have a drink like La Fontana, to enjoy endless evenings with some friends.
Night clubs
If you were thinking about partying a bit harder, you can go to Sojo Ribera.  In the upper floor, you'll be able to contemplate a beautiful view of Córdoba with the Roman Bridge over the Guadalquivir river. It also has dancing areas, comfortable sofas and even a terrace to enjoy the fresh air.
There are night clubs like Góngora Gran Café, Bambú or Long Rock, where you'll be able to dance until the early hours.  And don't forget O'Donoghues, a pub a little bit more quiet to have some drinks and hang out with friends. These are some of Erasmus favourites.,
Beers and tapas
Moreover, if you feel like relaxing with other Erasmus students, having some beers and tapas, La Plaza de la Corredera is one of the most valued places by students of Córdoba. It's a square situated in the old town with lots of outdoor terraces and a relaxed atmosphere.
Córdoba has a lot to offer to young people looking for fun, enjoying the city and meeting new people. Check out our post 5 pubs to have a drink in Córdoba to discover more interesting places in Córdoba.