Your Erasmus trip will start very soon so here we provide you all the information you need to know to get to Córdoba once from Seville's airport. We think that this post might be very useful for you as we provide you all the timetables and prices of all the transports you can use to go to the different stations and finally get to Córdoba.
HOW TO GO FROM THE AIRPORT TO…
1) SANTA JUSTA TRAIN  STATION:
Firstly, to get to Seville's bus station you have to take a special bus that stops in the airport, line EA. The price of the ticket is 4 euros. This service is operative every day of the year and there is a bus every 30 minutes. For further information click here. The bus stops near Santa Justa (train station) and also next to Plaza de Armas (bus station).
Once you are in Santa Justa you can buy your train ticket to Cordoba in order to start your Erasmus experience as soon as possible. Check here the prices and timetables of the trains.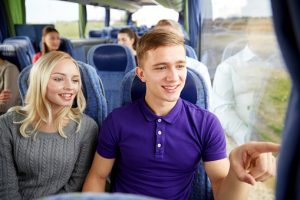 2) PLAZA DE ARMAS BUS STATION:
The buses with destination to Córdoba leave from Plaza de Armas Bus Station. To get to this station you can take the bus line EA, that costs 4 euros and that will take you directly to the station. For further information click here. You can also check here the timetables and prices of the buses Seville-Cordoba.
In case that you land in an airport different from the one in Seville you can also see How to arrive to Cordoba from Malaga's airport and How to arrive to Cordoba from Madrid's airport to discover the best tips about how to arrive to Córdoba to start your Erasmus.
Come arrivare a Cordoba in Italian.
Wie man nach Cordoba kommt in German.
Jak dotrzeć do Cordoby in Polish.