Your Erasmus trip will start very soon so here we provide you all the information you need to know to get to Córdoba once you arrive to Madrid's airport. We think that this post might be very useful for you as we provide you all the timetables and prices of all the transports you can use to go to the different stations and finally arrive to Córdoba and start your Erasmus experience.
HOW TO GO FROM THE AIRPORT TO…
1) ATOCHA TRAIN STATION: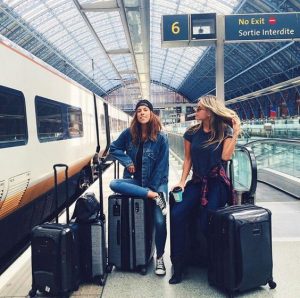 Once you are in the airport you can take a suburban train that takes you directly to Atocha, the train station. You can take the line C1 in the terminal T4 of the airport. The price of the ticket is 2,60 euros. This service is operative every 30 minutes from 05:44 to 23:07 everyday. The name of the bus stop in which you should get off is Madrid Puerta de Atocha. For further information click here.
Another way to get to the station is by using the line 203 of the bus company EMT, which you can take in the terminals T1, T2 and T4 every 15-20 minutes during the day and every 35 minutes during night-time. The price for the ticket is 5 euros. This bus is operative everyday, however, if you take it between 23:55 and 05:35 you will have to get off in the bus stop Plaza de Cibeles and take a night bus of the line N12, which stops in Ronda-Atocha. You can see all the information here.
Once in Atocha, you can take a train to Córdoba in order to start your Erasmus experience as soon as possible. Here you can check the timetables and prices of the trains Madrid-Córdoba.
2) BUS STATION: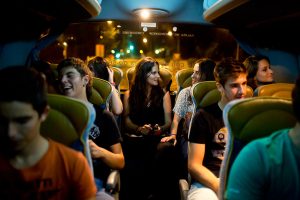 If you want to go from Madrid to Cordoba by bus the best choice is Socibus, a bus company that starts the trip directly from the airport. To check the timetable you only have to select as origin station (estación de origen) Madrid Aeropuerto. The price of the ticket is around 20 euros. The duration of the trip is 5 hours and 50 minutes. Check  here the timetables and prices.
If you land in an airport different from the one in Madrid you can also see How to arrive to Cordoba from Malaga's airport and How to arrive to Cordoba from Seville's airport in order to discover the best tips about how to arrive to Córdoba and start your Erasmus.
Read the text Come arrivare a Cordoba in Italian.
Read the text Wie man nach Cordoba kommt in German.
Read the text Jak dotrzeć do Cordoby in Polish.