Erasmus… how lucky you are to be in Córdoba already, right?  A small and cosy city, with a lot of students, sunny weather, with two whole months of local festivities (the famous month of May) and its flamenquines, salmorejo, rabo de toro, croquetas, gazpacho, tortilla de patatas… Gastronomy is one of the things that will make you feel sure about choosing Córdoba as your Erasmus destination. There are 8 bars in Córdoba that you should visit before the end of your Erasmus. Don't worry, we know your budget is tight 😉
1. La Bicicleta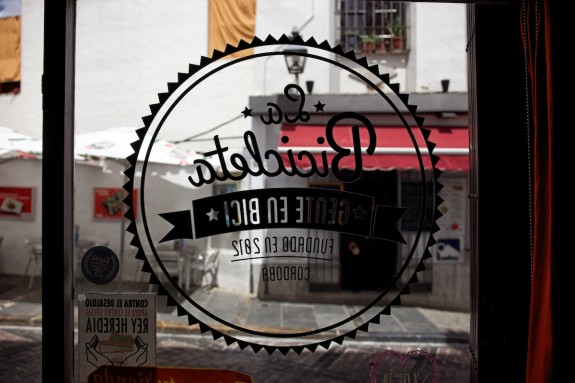 Probably the place where you'll find the best salmorejo toast you have ever tried. Its menu is elaborated with local products. A traditional dish from Córdoba that you must try at this bar is the mazamorra, the predecessor of the salmorejo. It is made of almonds, bread, garlic, oil, vinegar and salt. At La Bicicleta you can enjoy it served in a dish or on toasted bread, being delicious either way 🙂 Prices range between 4 and 12€ and don't forget to try one of their fresh juices.
2. El Abanico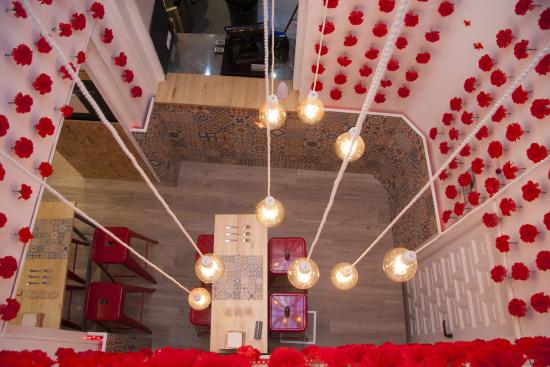 Located on one of the most famous streets of Córdoba, the Calleja de las Flores, you'll find this small place (really small) where you can taste some great croquetas de rabo de toro, with a price even greater 🙂 You will be surprised by its decoration and unique charm.
3. Bar Santos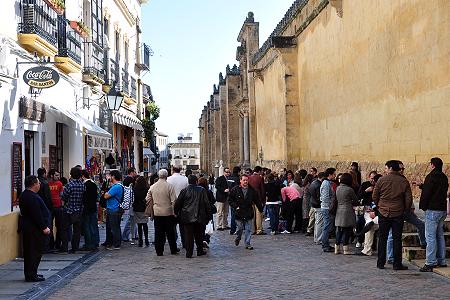 You might think that is a tourists bar, but the tortilla that is served here does not care about nationalities. It became famous more than 20 years ago due to the size of its tortillas and it has been keeping up its fame thanks to the quality of the food and the charm of the bar. You will pay 2€ for a generous piece of tortilla and if you want to, you could also order a bowl of salmorejo (it is as delicious as tortilla) and a beer and then relax on the Mosque's wall and enjoy the sun at midday. If you have never done so because you thought it was too touristic, get that idea out of your head. This is one of those places you have to go before leaving Córdoba and going back to your home country. 
4. Bar Rafalete (Ayuntamiento)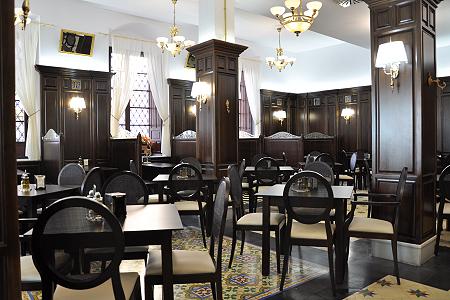 Never judge a book by its cover. Even though this restaurant looks like expensive restaurant, it has nothing to do with reality 🙂 Located in front of the city council, El Rafalete offers the best pinchitos (skewered pieces of chicken) you have ever tasted. This bar is always full of families and groups of friends and has become a part of the culture of the city. For less than 1€ you may have a "mini pinchito" that, together with a beer, will taste like heaven.
5. Mercado Victoria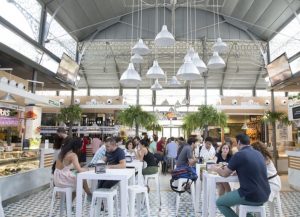 El Mercado Victoria was the first gastronomic market of Andalusia. And what do we mean by gastronomic market? Well, here you will be able to enjoy a great variety of food, not only traditional Cordoban and Spanish, but also international. Consisting of more than 20 stands, decide what you'd like to eat and take a seat wherever you want. As you can imagine it is a great place with lots of people during the whole day. Besides, a lot of leisure activities are offered, such as dance lessons or markets of clothes and accessories. It has become, without any doubt, into a key meeting point in Córdoba for people of all ages.
6. Bar Moriles (Ciudad Jardín)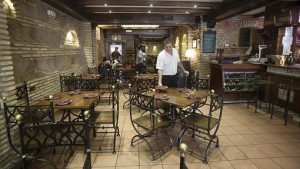 Similar to Rafalete, it is a traditional bar in Córdoba where everyone should go to at least once. There are three different bars under the same name in the city, proof of its success. In this traditional bar you can find all the typical dishes and tapas from the Cordoban cuisine at affordable prices. That is the reason why it is usually full of students and, why not, Erasmus. The most remarkable thing are the portions of food that are served, as they tend to be very generous to make sure that nobody stays hungry. So, if you are feeling hungry don't hesitate and go to Moriles to find out by yourselves.
7. Canadian (Río)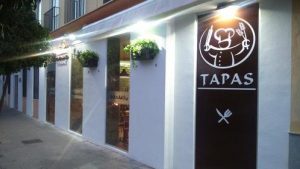 Close to the river we find the Canadian bar, which is probably the one with the lowest prices within this area. Yes! It is not a mistake, affordable prices at one of the most touristic areas of Córdoba. But don't you think this is related to the quality… not at all! The best thing about Canadian is that you can find the classic tapas with an innovative and gourmet twist. Perfect for Erasmus pockets, as you won't have to give up on great food, no matter how tight your budget is.
8. La Taberna del Río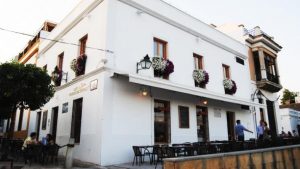 Following the line of bars with privileged location, next to the river and the Mosque, we can see La Taberna del río. Although its prices are a little bit higher than Canadian's, they are still pretty affordable. When it comes to the menu, it contains all the traditional Cordoban dishes and some international ones. Moreover, the presentation of the plates tends to be very exotic. Another strong point of this bar has to do with its great space, including two terraces and a white Andalusian patio. Definitely, a view you will remember after your Erasmus.
If you still want to find out about more places check our posts 5 pubs to have a drink in Córdoba and Where to have the best "bocadillos" in Córdoba?