There are lots of hidden places in this magical city that will enchant you from the very first moment. When it comes to streets, there are so many of them that you won't know where to start. To help you out, we've made a little summary of the most curious and charming streets you must definately visit before your Erasmus in Cordoba comes to an end.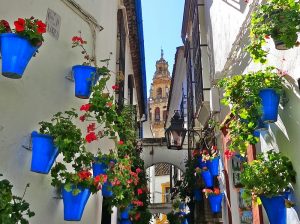 Just in the middle of the Jewish quarter and very close to the Mosque, we find one of the favourite spots by the tourists who come to Córdoba. What stands out the most are the numerous flowerpots decorating the street that create a unique atmosphere. Furthermore, from this point you can anjoy one of the best views of the Cathedral's tower. You'll have probably seen lots of photos from your Erasmus friends taken at this street, it's a must see 🙂


We bet you don't know this street by its name, but if we tell you it is the Wall's street you'll start to orientate yourself. This beautiful street with gardens and water goes from the Almodóvar Door until the Muralla (wall). It is named Cairuán after the city with the same name, that is in Tunis. It will clearly remind you to the Arabian style, to the extent that walking down the street you wont know for sure whether you're spending your Erasmus in Cordoba or if you're travelling through Tunis 😉

One of the most beautiful streets of Cordoba and one you'll have probably cross trough more than once during your Erasmus. This slope street is characterised by its long cobbled steps (32 to be exact :P) and, during springtime, by the beautiful bougainvillea flowers hanged on the wall. The perfect place to leave with a good memory from your Erasmus in Córdoba.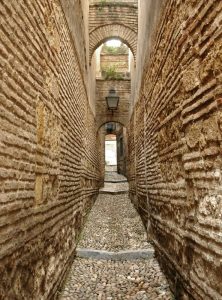 This dark alley full of arches has a lot of history. Specifically one legend which is the reason why it is also called "the street of the 7 heads". If you like these legends and you thought you wouldn't find any of them to tell after your Erasmus in Córodba, here you'll discover a new one. As the legend says, at this street was located the house of Gustios González and it was also here where the heads of his seven sons, the seven infants of Lara, were hanged. Whether you believe it or not, this street full of history is worth seeing.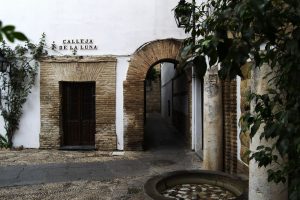 This narrow streets is one of the most hidden places of Cordoba. Originally it was not a street, but a blind alley. This was until the moon arch, that allowed the entrance to the Jewish quarter, was opened. We suggest you to give yourself a treat and have dinner around here and live a truly Erasmus experience in Córdoba.

Calleja del Salmorejo cordobés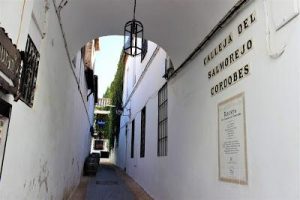 If you talk to other Erasmus students who have been on Erasmus in Córdoba, they may not know this street because it has been named like this for less than two years. Salmorejo is such an important traditional dish for our city's gastronomy that it even has its own street! Apart from being a very curious name for a street, if you come by and see it, you'll also find a big tile with the recipe of this tasty dish 😉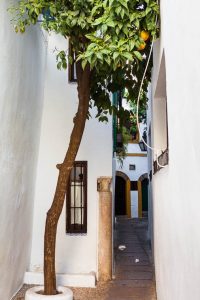 We'll finish our list with another must-see for all the tourists and Erasmus students who are in Cordoba. If you though you had already seen very narrow streets in Cordoba, get ready for this one because it is as wide as a scarf. No, we're not joking, if you want to go through it, you'll have to go one by one and even this way some of you may find it difficult. Moreover, there's a tiny square at the end of the street that is considered by some people as the smallest one in the world...not suitable for claustrophobics! 😉
If you want to know more…why don't you read our post The 7 essentials of Córdoba? We're sure you'll end your Erasmus knowing more about Cordoba than about your own city.