Attention! This information is very important if you're an Erasmus student in Córdoba! It will be very useful for all the trips you'll make during this year.
If you are between 14 and 25 years you can get the Tarjeta +Renfe Joven 50 (Renfe Youth Card).
For just 50€ this card will allow you, for one year since its purchase, to buy AVE and Long Distance tickets in national journeys with a discount up to 50% over the standard base. Without any kind of limitations including class, train type, day of the week, etc. (to check discounts click here).
Moreover, if you don't belong to the Tempo Programme of Renfe, being in property of the Youth Card you'll automatically be part of Renfe's loyalty programme. Meaning that you'll get points everytime you buy a train ticket and you'll have the possibility to exchange these points for more train tickets, hotel nights and so on.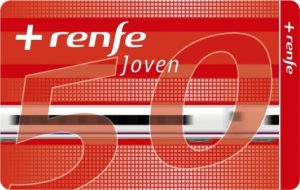 For more information, you can contact the customer service on the   902 42 00 24.
IMPORTANT: It will be indispensable to have the train ticket and ID,NIE or PASSPORT in order to prove the passenger's identity when the authorised personnel ask for it. 
If you found this post interesting, check 5 apps to organise your Erasmus trips to discover more facilities for travelling.