Spanish gastronomy is very different from north to south, but it's possible to enjoy it in every city of Spain. In the south, in Andalucía, you'll be able to taste the traditional Mediterranean diet: fish, vegetables, olive oil…Today we are going to show you the salmorejo's recipe because it is a typical dish from Córdoba that is really easy to make, so you can prepare it during and after your Erasmus to amaze your friends and relatives.
What do you need?
150 ml olive oil (Don't use sunflower oil!)
1 kg ripe tomatoes.
1 garlic clove.
200 g bread (it can be from the previous day and, if possible, it is recommended to use a specific type of bread called "telera". You'll find it almost everywhere, as it's typical from Córdoba).
As you may have checked, they're very basic ingredients. Once you have all of them, you must follow these steps: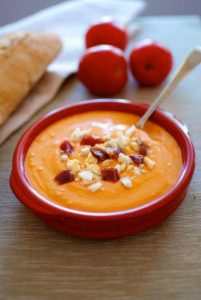 1. Wash and skin the tomatoes. Chop them into four pieces and put them in a bowl. Blend them until getting a creamy texture. Then, with the help of a strainer, make sure there are no seeds left.
2. Cut the bread into small pieces and add them to the cream. Leave them soak for 10 minutes to soften the bread.
3. Peel the garlic clove and add it to the bowl with the tomatoe cream and the bread.
4. Add the olive oil and a pinch of salt. Next, use a mixer to blend the mixture until smooth. Make sure there are no lumps.
5. Leave it in the fridge to chill and that's all!
In about 20 minutes you'll be able to try one of the traditional dishes from Córdoba. You can eat it with a spoon or bread, try to make it to amaze your mother when you come back home from your Erasmus!
If you want to know something about a specific Cordoban dish, don't hesitate to ask us! And don't forget checking our post Cordoban cuisine: typical dishes and where to taste them.