Cuisine of Córdoba: typical dishes and where to taste them
As we have repeated over and over, gastronomy is one of the best things of Córdoba. And we can assure you, no matter how homesick you are during your Erasmus because everything will be better with a good Salmorejo 🙂
Here we list the main typical dishes from Córdoba and some suggestions of where to try them so that, when the moment of ending your Erasmus arrives, you will never forget the authentic taste of Córdoba.
Salmorejo
Is a purée usually served as main course.
To make it we'll need:
Bread
Garlic
Olive oil
Salt
Tomatoes
Its final consistency is like a purée. Normally, it is served garnished with diced Spanish serrano ham and diced hard-boiled eggs that, apart from decorating the plate, make it even tastier. It is ussually consumed in summer because it is served cold and here it gets really (really) warm, however it's so delicious that any time is good to have some Salmorejo 😉
By the way, there's a little tip for you, being Erasmus in Córdoba you have to save as much as you can: you could use the spare bread of the week to make your Salmorejo (it will be tasty either way).
We suggest you to go and try it at Umami Salmorejería (with more than 30 different types of salmorejo) or the classic Bar Santos.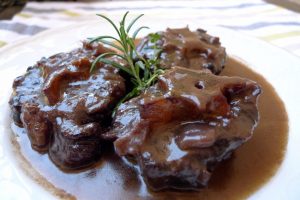 Now it is the turn of rabo de toro (oxtail) and if you're wondering if we are crazy, we are not. The oxtail is a traditional dish from Córdoba consisting of a stew made of a cattle or bull's tail. This recipe has been known since Roman times and it has been evolving over time. That is why there isn't just one recipe, but as many as cooks, restaurants and bars.
You can find it at lots of bars and restaurants, but why don't you dare and try the wrap version at El Campero? For a little bit more of three euros you can taste this innovative recipe during your Erasmus.
Flamenquín
The flamenquín is a typical dish of the cuisine of Córdoba that consists of slices of serrano ham wrapped in pieces of pork loin, coated with egg and breadcrumbs and then deep-fried. Don't worry if you are not a big fan of serrano ham (even though it should be a sin ;)) A common variation replaces it with boiled ham and it can also be made with other fillings, such as cheese, pepper, etc… let your imagination fly!
And don't panic after seeing its size: it is usually 18 centimetres long.
One of the best options to try it it's Bar Moriles, with the best value for money, moreover, if you are in a hurry, they also serve it as a sandwich!
Pastel cordobés
There is no need to be too clever to guess that pastel cordobés (Cordoban pie) is a traditional pie from Córdoba. It is a very simple pie that you will surely be able to cook during your Erasmus). Its ingredients are:
Pastry dough
Angel Hair Squash
Egg
Sugar and cinnamon
Just for you to know, since 1998 this pie is made on the 17th November every year. It is the Córdoba patron saints' day and a great opportunity to taste this delicious dessert… for free!
Anyway, if you only want to taste it, you will only have to go to the nearest bakery or to the well kown Salazar and Roldán.
In case you want more, you can always go to our post 8 bars you can't miss during your Erasmus in Córdoba. You won't have excuses to become an expert on Cordoban cuisine 😉